When was the last time you purchased software that actually paid for itself in less than a year? Regardless of the size or type of organization, nearly everyone suffers from print management issues. Inkjet printers cost around 14 cents per page. Although laser prints are considerably less expensive, it doesn't take much savings to offset the cost of this software. That's because the price and features scale to fit the size of each organization. If you have four or five PC's, you can cut printing costs and waste by 35-40% for an investment of less than $500.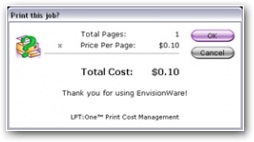 From the Project Gutenberg Web Site: War And Peace on-line text document
Try this comparison:  Create a War and Peace PDF and count the time to display a page count and cost at the client for 1 client and for 50 clients.  (It's the same with LPT:One because of distributed processing architecture.)
LPT:One is scalable. That means that it can grow to support any number of PC's in a network. Also, you can add only the functionality you need and can expand or change the system at any time. Each feature set is sold as a module.
Whether you want to manage printing on standalone PC's or networked, charge for print or provide it for free, we have the solution for you.
Many people ask if the software is compatible with Novell or NT/2000/XP. The good news is that we are server-independent. In fact, because of our distributed processing model, we don't even need to use a server to manage printing*. That means better bandwidth management on a wide area network, elimination of a potential single source of failure, and the ability to build a system with no limits.
If you have been looking for information, you'll be pleased to see that we show it all on this web site. Specifications, literature, white papers, pricing, compatibility, even a link to our technical support listserv where you can see firsthand how quickly we solve problems for our customers.Thanks for visiting our web site.
* A file server is recommended to host the database for the optional Authentication and Accounting Module.  The SQL-based accounting database can be hosted on Linux, UNIX, AIX, Windows, Macintosh, Solaris, and other platforms.