Worldwide, PC Reservation® stands for the ultimate solution in public computer management. Offering unsurpassed versatility and the most intuitive public interface, PC Reservation is a turnkey solution for every library regardless of size or type. Version 4 is the new generation of computer management, designed with new technology to incorporate all of the great features in use by over 10,000 libraries around the world.
The primary new features in Version 4 include:
Rich, HTML interface
Delivers information/news, helpful instructions and a real time computer status
Cross platform
Windows, Terminal Services, and Mac on wired or wireless networks
Customizable Architecture
Offers high levels of customization for a fully customized appearance and workflow
Centralized Control
New web-based management interface
No local client configuration
Provides easier deployment, changes and upgrades
New Generation Auto-Update
A new design that works regardless of patron user computer privileges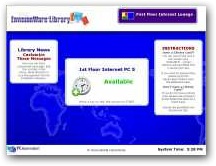 Three fundamental concepts are inherent in the design of PC Reservation and set it apart from other systems.
The first concept is predictability.  This means that the patron must be able to predict their experience, use time, and end time.  The developers at EnvisionWare wrestled with this challenge.  Other vendors were introducing electronic clipboard models but we wanted to take the process a step further and eliminate the queues, waiting around the desk, "dead time", and hovering over users.  Thus we introduced the first time-based reservation system.  Patrons know exactly what time their PC will be available and what time their session will end (unless you set your system to permit automatic extension when no other patrons are waiting to use their system.)
The second fundamental is maximum resource utilization.  It is imperative to keep all of the PC's in use.  Version 2.0 pushes this concept to the limit thanks to the careful testing and feedback from the Phoenix Public Library System.  Patrons are provided with a standard session reservation unless their wait exceeds an administrator-defined wait time.  In this case, the patron receives a choice to wait for a full session or accept a shorter session now.  When a user sees a free PC, they can sit at that device and allow the system to automatically swap their reservation.  Naturally, a user holding a reservation may start their session at their designated PC if the prior user leaves early.  Many exciting new features have been incorporated into PC Reservation to ensure fair and equitable access while optimizing the use of the resources to serve the greatest number of patrons per day.
The third requirement is reduction of staff intervention in the management of public PC's.   Our installed locations report a staff PC support reduction of 85%.  This is due to the intuitive patron interface wizard, the automated "Next Available PC" locator, and the receipt printing capability.  New patrons quickly adapt to the system.  There is NO database management because it occurs in the background on a real time basis by optionally linking to your library management system.  Many librarians have indicated their joy at returning to the provision of the service for which they received their education.
All in all, PC Reservation provides equity, management, and order in an otherwise unruly part of your library.  Management statistics provide the missing ingredient in assessment of public use of the library.  The extensive list of additional features is outlined in the brochure link at the top of this page.
We appreciate the time many have contributed to make this product responsive to the market.  We also thank you for taking the time to visit our site and to review the information about PC Reservation as well as the companion products available from EnvisionWare.